About AquaGuard Foundation Solutions
Recent Testimonials
"Excellent employees and excellent service!"

David S. of Baldwin, GA
AquaGuard prides itself on the 90-plus well-trained employees who are supported by a knowledgeable office staff ready to answer all your questions, even the technical ones.
Our system design specialist will perform an interior and exterior inspection of your home then customize a plan that's right for you.
There are several companies, that do what we do, but no one does it with the quality, service and professionalism associated with every job we do. Allow us the opportunity to serve you and "experience the difference."
AquaGuard is an independently owned and operated company in Marietta, Georgia. Wanting to build a company that stood out in the contracting industry, Tom DiGregorio founded his company on principles like honesty, integrity and caring.
We are "All Things Foundations!"
When it comes to your foundation, we've got you covered!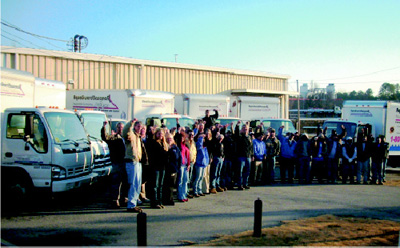 As members in good standing with the NAWSRC, Atlanta Home Builders Association, and International Concrete Repair Institute, we are enjoying the benefits these principles provide. AquaGuard is also a Better Business Bureau Accredited Business.
AquaGuard is unique in the Atlanta area not only because of the foundation on which this company is built, but because we are the only waterproofing contractor licensed to install Basement Systems patented products and systems. These products are the latest in modern design and are superior in workmanship and effectiveness.
Company History: AquaGuard Celebrates 20 Years
...of solving their customers' waterproofing and foundation repair problems.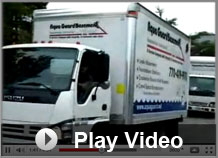 AquaGuard Waterproofing Contractors, Inc. as it was known then, opened its doors in 1995. Their specialty was waterproofing new homes. But AquaGuard's owner, Tom DiGregorio discovered a serious need for foundation repairs, including waterproofing, piering, pressure grouting, & drainage for existing homes as well. These homeowners needed someone who understood their problems and that they could rely on to give them the right answer for a fair price, and to deliver what they promised, on time.
---
AquaGuard started out in a small building on Merritt Street, which they shared with other companies. In 1999, AquaGuard Contractors became AquaGuard Foundation Solutions as we joined the Basement Systems worldwide network of dealers where we have consistently ranked in the top 20 (out of over 400) dealers worldwide. We are also a dealer for FSI - Foundation SupportWorks, a national company which has many patented solutions for foundation problems.
---
Shortly thereafter, we moved to offices on Old Clay Street. In 2009, AquaGuard joined the Foundation SupportWorks network of foundation repair systems dealers, and has since become one of the leading foundation repair companies in Georgia.
---
In 2001, growth began to catch up with the company and it became time to move. So we purchased our own building on Webb Industrial Drive and moved in. Today, AquaGuard Foundation Solutions is an award winning waterproofing & foundation repair company, including six straight 'Top Pick' awards by Home Reports and five straight Consumer Choice Awards for Business Excellence.
---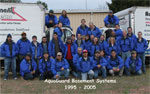 AquaGuard is also one of the few companies in Atlanta to have reached the 10 year milestone without ever having a complaint to the Better Business Bureau. Additionally, AquaGuard is the only foundation repair and basement waterproofing company in Georgia to have been approved by the Georgia Real Estate Commission to offer Continuing Education Courses. "A Service Company with Integrity, A Contractor Who Cares" became the motto of that new company which has successfully serviced over 16,000 homes and over 20 years in business in the Greater Atlanta, North Georgia area.
AquaGuard has established itself as Greater Atlanta and North Georgia's trusted foundation repair company. We pride ourselves on providing only the best in customer service and foundation repair expertise to get the job done the right way.
Looking for a price? Get a no cost, no obligation free estimate.