How to Choose Gutter Colors with Our Gutter Color Chart
Gutters can make or break your home's curb appeal, but not just through water management. Choosing the right color for your gutters is also important, and AquaGuard wants to help make the process easy. Having an effective gutter system shouldn't come at the expense of your home's aesthetics and curb appeal. Thankfully, gutters come in many different colors so you can make sure they match with your home's unique style.
At AquaGuard, it's our goal to make sure homeowners choose the best gutters for their homes. When it comes to choosing gutter colors, we have several tips that simplify the entire process.
---
Choosing the Right Color for Your Home
Although gutters make up a relatively small portion of your home's exterior, they have a substantial impact on the curb appeal and safety of your home.
Not only do gutters themselves affect a home's curb appeal by protecting it from water damage, the color of gutters also plays a role, especially if they match (or don't match) the color of your siding, trims, or roofing.
Here are 4 tips to get you thinking about what you want to achieve with your gutters and the finished look that will best fit your home.
Match Your Roof or Siding
Want your gutters to blend in seamlessly with the areas they will be closest to? If so, you should try and match the color of your gutters to the color of your roof or siding.

If gutter colors don't match here, it could make your home's aesthetics unpleasing.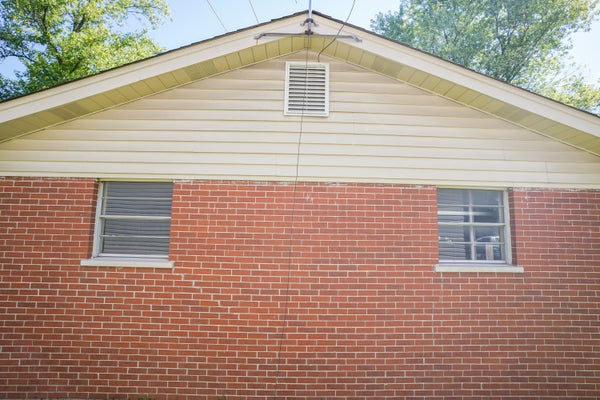 Match Your Exterior Paint Color
Some people don't like when gutters are easily spotted outside their home. If this sounds like you, your best bet is to choose a gutter color that matches your home's exterior paint color.

When gutters blend in with the exterior walls, it isn't as easy to spot them from the road. That can make for a good-looking home.
Match Your Trim
Since gutters are hung along the edge of your roof, you can use them to trim out the top of your home. Matching your gutter color to the rest of your home's trim allows you to use them as both an aesthetic and functional addition. Not only do you get a working gutter that protects your home, but you get trimming around your roof that makes the rest of your home pop.
Contrast Your Home's Color
Choosing a contrasting gutter color isn't as common, but it's a great way to add visual allure. When choosing a contrasting color, it's still important to work within your home's general color palette. Green may look too extreme with a white home, and blue could look strange alongside a tan house. Ultimately, the choice is yours, and matching your gutters to smaller exterior accents like a front door (think a pop of red) could add some real pizzazz to your yard.
Our Gutter Colors and Color Chart
Our gutter color chart is a complete collection of our color offerings to match any style.
White is a standard gutter color for most homes
Brown tones like Musket Brown and Wicker compliment earth-toned homes
Cream and Eggshell colored gutters are a popular modern choice 
Black gutters do well for homes with cool-toned trims and siding 
Other Things to Consider When Choosing Gutter Colors
Besides color, exterior factors like budget or style restrictions also play a role in choosing a gutter color.
Here are three common factors that homeowners must consider. Taking these into account will help you decide what works with your home and prevent any unexpected surprises down the road.
HOA Restrictions
Depending on your neighborhood, HOA restrictions may regulate everything from fence and house color to the color of your gutters for a sense of uniformity. If your home is part of a Homeowner's Association, you'll want to see if there are any restrictions on the colors you can choose before installing your new gutters.
Budget
Basic colors such as white are typically the factory finish color for gutters. As such, these colors tend to be a little cheaper than the others. Specialized colors like reds, browns, or green will likely be more expensive. Depending on your budget, certain colors may be more cost-effective than others.
Downspout Placement
For example, if you intend to match your gutters with your trim, a downspout located in the middle of the wall may look out of place. Therefore, you should consider the placement of your downspouts before settling on a color.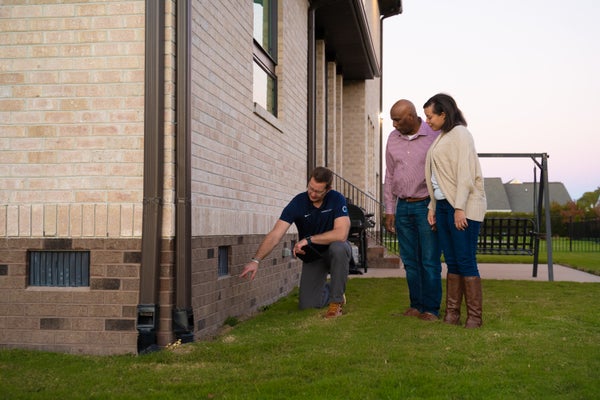 Having a complete gutter system that compliments your home is instrumental in maintaining your home's curb appeal and structural integrity. That's why at AquaGuard, we want to help homeowners in Atlanta make the best decision possible when it comes to choosing gutters, from attachable guards to colors. Without an efficient gutter system, your house and foundation are at risk for damage that negatively impacts your home and foundation.
Gutter Color FAQs
Light color gutters tend to show discoloration earlier than darker colors, but neither one is the "better" choice.
The best gutter color depends entirely on your home's color scheme and your intended result. There is no definitive best color, only the best color for you.
Both approaches can result in a good-looking finished product. It really comes down to whether you want your gutters to stand out as trim or blend in with your roof.
Contact AquaGuard Today!
To learn more about how gutters protect your foundation, and to schedule a free inspection, consider contacting us today!