Uneven Floor
Did you realize that uneven floors are a sign of foundation damage? With proper interventions from foundation repair specialists, you can restore your floors to their original stability.
Here at AquaGuard Foundation Solutions, we have fixed thousands of uneven floors using world-class methods. Our extensive foundation repair services will allow you to bolster your home's foundation and achieve enduring, stable floors!
What is an Uneven Floor?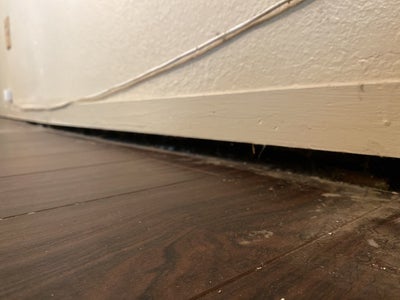 An uneven floor, as you might infer, is a surface that isn't uniformly level. Different areas of the floor can be higher or lower, leading to visible slopes, inclines, or depressions.
This results in noticeable irregularities that can be a constant hindrance in everyday activities like walking, sitting, or cooking—your groceries might even slide off the countertop!
Most times, an uneven floor is the result of underlying foundation issues. When elements of the foundation shift, sink or weaken, it distorts parts of the floor, creating an unlevel surface.
What Causes an Uneven Floor? Understanding the Root of the Problem
Various factors contribute to uneven floors in homes. Our assessment process is tailored to identify all these underlying issues so we can suggest effective solutions. The usual suspects include:
Foundation Settling
Factors like weather, weight, or poor construction can cause a foundation to move. Over time, this causes the soil beneath your foundation to compress and wear away over time. Then, the foundation sinks unevenly and does the same to the floors above. 
Tree Roots
As the roots of trees grow in your yard, they may extend beneath your home. When these roots grow large enough, they exert pressure on the foundation, weakening its structural integrity and leading to an uneven floor.
Water Intrusion
Your foundation depends on the soil for stability. Unfortunately, excessive moisture causes problems with the soil around your foundation. For instance, water may leak below the foundation.
In certain regions, water can erode the soil, leading to foundation settling and consequently, unbalanced floors. However, in areas rich in clay, water makes the soil swell and push against the foundation, causing your floors to become uneven.
Is Repairing an Uneven Floor Possible?
Absolutely, yes! Utilizing precise foundation repair methods like pier systems, we can re-level your floors and address the underlying issues simultaneously. 
Keep in mind, superficial fixes like shims or sanding may provide a temporary aesthetic improvement, but they don't solve the root problem. Rest assured, AquaGuard's foundation solutions do!
We bolster your foundation to prevent future sinking or shifting. Our all-encompassing approach to repair yields long-lasting results that homeowners have been relying on for over 30 years.
How to Correct an Uneven Floor: Step-by-Step Guide
AquaGuard has honed the floor leveling process over decades. Here's what you can expect if you opt to work with us:
1. Preliminary Inspection
Our expert team will inspect your uneven floors and the rest of your home. We'll determine the underlying causes behind the foundation damage and search for issues like water infiltration or weak soil.
2. Install Foundation Piers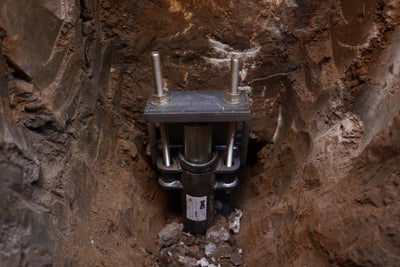 We'll install our proprietary pier systems at any affected areas of your foundation, effectively elevating your floors back to a safe level. Our piers are custom engineered to distribute your home's weight uniformly and provide lasting stability.
Depending on the damage's scope and location, we may use slab piers, push piers, or helical piers. Regardless of the type we decide will work best for your home, they all serve the same purpose—stabilizing your foundation.
3. Additional Home Fixes
When required, we'll tackle other related issues like water ingress or damaged concrete, which can further compromise your foundation. This comprehensive methodology helps to avert future foundation issues.
Why Address Uneven Floors Now
Neglecting uneven floors can result in:
Persistent sinking and settlement
Structural harm from eroding soil or failing supports
Increased likelihood of plumbing leaks due to shifting foundations
Escalating repair costs as damage extends
Don't delay until minor imperfections become major hazards or result in expensive foundation collapses. AquaGuard offers affordable, minimally invasive methods to strengthen sinking foundations and re-level floors. Secure your home with our all-inclusive repairs.
Reach Out to AquaGuard Foundation Solutions for Dependable Fixes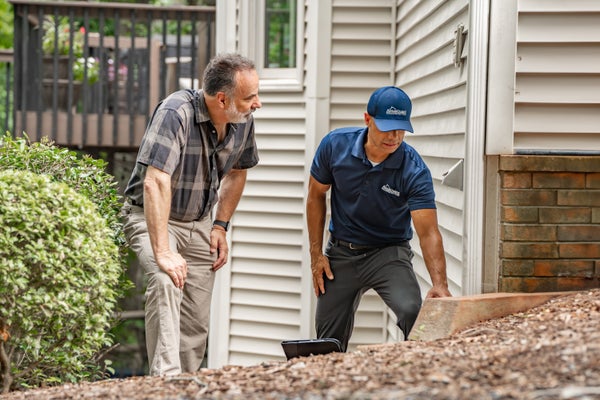 Worried about uneven floors and potential foundation problems? AquaGuard Foundation Solutions is here to help. For over two decades, our foundation repair services have releveled countless floors.
We offer a no-cost, expert evaluation to help you comprehend the problem and give you a same-day quote. We then develop a repair strategy tailored to your home's needs. Trust our guaranteed solutions for a permanent fix!
Uneven floors are an obvious red flag that your foundation demands attention. Don't overlook them! Contact AquaGuard today to arrange your free assessment and get your foundation stabilized.
Publish Date:
Last Modified Date:
Explore more problem signs