Sump Pump Systems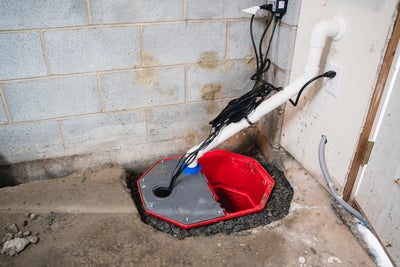 Water accumulation in your basement can result in damage, loss of valued items, costly repairs, and a decrease in property value. AquaGuard provides reliable AquaStop™ Sump Pumps to effectively eliminate water, maintaining a safe and dry basement space.
With over two decades of experience, our team has been providing basement waterproofing services in Northern Georgia since 1995, gaining homeowners' confidence through our exceptional service and high-quality basement waterproofing services.
This page will show you the importance of having a reliable sump pump system and how our sump pump system solves your basement dampness problems for the long-term.
What is the AquaStop™ Sump Pump System?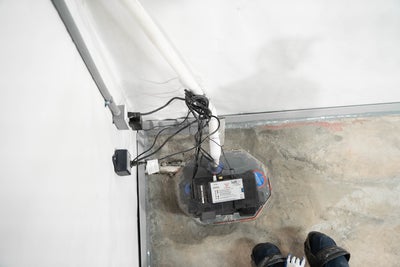 The AquaStop™ Basement Sump Pump System, situated at the lowest point of your basement, is devised to collect water from interior perimeter drainage systems and expel it away from your home's foundation.
This system is essential for preventing water build-up and structural damage in basements. It is part of a comprehensive home solution to maintain a secure and healthy living environment.
AquaStop™ Sump Pumps are equipped with features like a water alarm, a sump liner, a sealed sump lid, and robust cast iron pumps to ensure dependability and performance. Consistent maintenance is key to the longevity of your AquaStop™ sump pump, preserving a dry basement for years.
Signs You Need a Basement Sump Pump
Knowing the signs that signify the need for a sump pump in your basement is crucial:
Acknowledging these signs is essential to protect your home from water damage and associated issues.
Is a Sump Pump Necessary?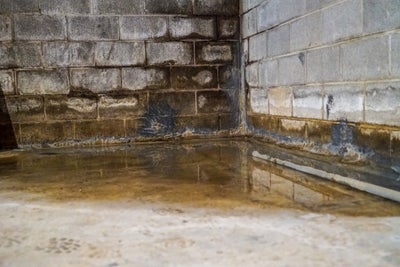 Indeed, a sump pump is invaluable in maintaining a dry basement; it is the backbone of any efficient basement waterproofing system. Without one, water would accumulate, leading to mold and mildew, as well as structural deterioration.
Taking immediate measures can prevent the escalation of severe problems down the line. Additionally, AquaStop™ Sump Pumps integrate seamlessly into broader home solutions, focusing on the overall health and safety of your living environment.
What Are the Different Types of AquaStop™ Sump Pumps?
Understanding that every home is different, we offer a variety of sump pump systems tailored for your specific basement needs.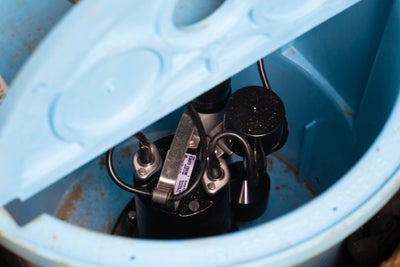 AquaStop™ Basement Single
This singular pump system utilizes a sturdy SafeDri™ cast iron pump for consistent water removal. It is available with either a SafeDri™ ⅓ hp or ½ hp pump, capable of discharging over 2,000 and 3,000 gallons of water per hour respectively.
AquaStop™ Basement Single with Battery Backup
This model features a battery backup to maintain functionality during power outages, capable of expelling over 11,500 gallons per hour on battery power.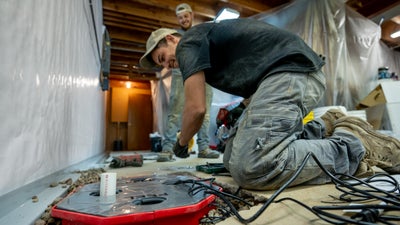 AquaStop™ Basement Triple
This top-tier system comprises three pumps for maximum protection. The main SafeDri™ 1/3 hp pump handles daily water removal, a secondary SafeDri™ 1/2 hp pump tackles larger volumes, and a third battery backup pump ensures operation during power interruptions.
Our experts will assess your basement conditions and recommend the most appropriate AquaStop™ system for your home.
What Are the Benefits of the AquaStop™ Sump Pump System?
A reliable sump pump system offers several benefits:
Lasting Dryness: AquaStop™ effectively removes water from your basement, reducing flooding and dampness risks.
Comprehensive Protection: Our pumps integrate with other waterproofing solutions like interior drainage systems, vapor barriers, and dehumidifiers.
Reliable Performance: With up to triple pumps and backup battery options, AquaStop™ guarantees continuous operation even in severe weather conditions and power outages.
Long-lasting Service: Our cast iron pumps are built to last, and our annual maintenance programs ensure optimal system performance.
AquaGuard is your solution to basement moisture problems. Our exclusive pumps, along with professional installation, provide unparalleled protection and benefits. Contact us to schedule your free inspection.
How AquaStop™ Sump Pumps Work
The sump pump is an integral part of our basement waterproofing system, operating best when used with other components. The installation process involves:
Identifying the lowest point in the basement
Digging the floor to accommodate the sump liner
Creating a trench for the interior drainage system
Connecting the drains to the sump basin
Installing the pumps and other components in the sump liner
Setting up the discharge pipes
Connecting the electrical hookup to the control panel
Testing the system and sealing the sump basin with an airtight lid
AquaGuard guarantees high-quality installation services to ensure the effectiveness of your sump pump and overall basement waterproofing system.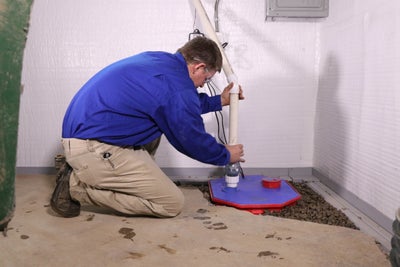 Why Our Sump Pumps are the Best Choice for Your Home
AquaStop™ sump pumps offer several unique features such as:
High-quality cast iron pumps
Water alarm and secure lid
Multi-layer protection
Compatibility with other solutions
Backup battery options
Extensive transferable warranty
For ultimate basement protection, rely on AquaGuard for superior sump pump systems and holistic home solutions.
Contact AquaGuard for Sump Pump Solutions Today!
Don't allow basement leaks to become a significant concern. AquaGuard is here to help you weather the storms with our dependable sump pumps and additional basement waterproofing solutions. Contact us today for a free inspection and estimate.
Understanding the challenges presented by the humid climate in Northern Georgia, we are ready to help you protect your home from water intrusion. Our AquaStop™ sump pumps are designed to maintain a dry basement over the long term.
Publish Date:
Last Modified Date: