What Is a Foundation Pier?
Atlanta Guide to Helical, Push, & Slab Piers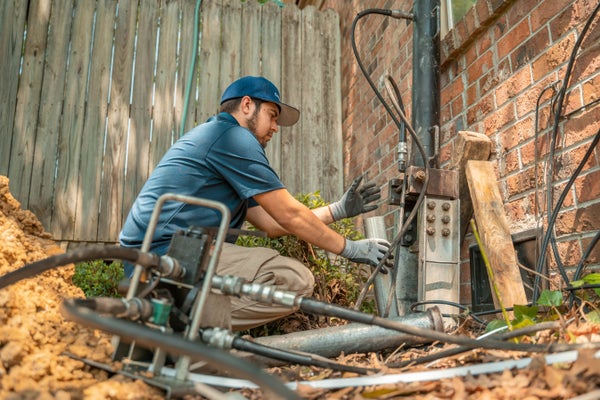 Homeownership means your list of house projects is never-ending. Since it's likely your home is your biggest investment, putting off foundation concerns can be a very dangerous situation. Instead, choose to understand the tools for repair and how they are used for permanent stabilization. Learn why your home may need foundation repair and how choosing the right repair process can save headaches and money in the long run.
What Are Foundation Piers?
Piering (or underpinning) is a method to stabilize your home by transferring the weight from unstable soil onto piers that are driven deep into stable bedrock soil.
Piers provide immediate stability and have the potential to lift your home back to a level position, closing cracks as it does so.
These products and procedures have been honed with you in mind. They aim to offer minimal disturbance to your life by offering fast and efficient installation.
Signs I Need Piers
Before we talk about common problem signs at your home, first let's explore why you are experiencing problems. The red clay soil in the Atlanta area is prone to movement. Clay soil absorbs water easily and expands when wet. During dry seasons, the soil shrinks. This movement creates voids your home sinks into, often unevenly.
Experts utilize tools, like a laser level, to pinpoint settlement to determine the proper repair.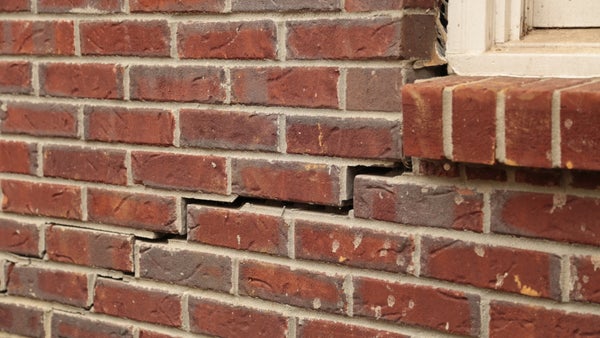 Uneven sinking leads to:
Stair Step Cracks in Brickwork
Sticking Doors and Windows
Uneven Floors
Cracked Uneven Basement Slabs 
How Piers Work
Foundation piers work by supporting the weight of your home from the bedrock, instead of relying on unstable soil.
The pier bracket is attached to your home's footing and the pier is driven deep into the stable strata soil below.
Various tools are utilized to determine the proper depth to ensure permanent stability. Once all the piers are attached, the weight of the home is transferred to the piers permanently.
Since Georgia's soil and climate play an important role in the solution, it's best to choose a local company with years of experience working in red clay soils.
---
Different Types of Piers
Depending on your home, and the type of damage, three different pier options may be utilized.
Push Piers
Helical Piers
Slab Piers
---
Push Piers
Push piers are the most common pier used in the Atlanta area.
Brackets are attached to the home's footing, and piers are hydraulically driven deep into the ground. This hydraulic drive gives name to the term 'push' pier.
Push piers are best used on heavy structures like homes because they utilize the home's weight to drive the piers.
Helical Piers
Helical piers are similar to push piers in that a bracket attaches to the home's footing. Helical piers, however, feature helical plates welded to the pier shaft. These plates help pull the pier, in a screwing fashion, into the soil during installation.
This type of pier also provides anchoring strength as the weight of the structure is transferred to the pier.
Helical piers don't rely on the structure's weight to reach proper depth, so they can stabilize structures of any weight.
Slab Piers
While slab piers operate with the same general principle, they can only be used on slab foundation home.
Instead of attaching to the footing, specialty-designed brackets attach to the underside of the concrete slab. Piers are then driven deep, bypassing ill-suited soil until reaching solid bedrock before the weight is transferred.
Can Piers Be Repaired?
No. Once piers are driven into the ground no repair is needed.
A trained expert will determine the proper number of piers and specific placement needed to stabilize your home permanently.
Piering solutions at AquaGuard come with a lifetime warranty of the structure. That means, if you ever sell the home, the warranty is transferred to the new owner. It's an excellent selling tool.
---
Finding Pier Solutions with AquaGuard
When it comes to repairing your settling foundation, diagnosing and choosing a company with a proven track record for repair is essential.
AquaGuard has been stabilizing foundations in your neighborhood since 1995. Their understanding of local soil and climate, combined with cutting-edge products have secured them as the number one foundation contractor in the greater Atlanta area.
Your home and time are important to us. Our inspectors and installers will treat your home as if it were their own and get the job done right, the first time.
We're here to help. Call or schedule your free, no-obligation inspection today.
Foundation Piers FAQ
No. Foundation piers do not require repairs. If settlement is still occurring, additional piers may be needed for support.
This is rare unless only one section of the home was repaired initially.
The push pier. Since push piers require slightly smaller equipment, they are easily installed in both tighter urban areas. Helical piers are installed when helical piers don't make the most sense for the structure.