Georgia's Top 7 Signs of Foundation Issues
Home is where your heart is. It holds a lifetime of memories from birthdays and Christmases to game nights and quiet nights in. It's your safe haven.
Your home is important to you, and so is your family. It's crucial to protect both.
But your home isn't perfect. It's bound to suffer damage at some point. The key is to keep an eye out for signs of trouble and have them professionally inspected and repaired as soon as possible.
This article covers some of the top foundation issues homeowners deal with. We'll also talk about what to look for, why it's happening, and how it can be repaired by local experts.
Foundation Issues
Homes in Greater Atlanta and throughout Georgia have different foundation types, but most are evenly split among the three most common ones:
Basement
Crawl Space
Slab
Many different kinds of problems can happen with each of these foundations. Here are the top seven you will encounter.
---
Top 7 Signs of Foundation Problems
Your foundation itself is generally not visible, but symptoms of damage will take many forms, including:
Brick Cracks/Stair-Step Cracks in Brick
Wall Cracks
Uneven Floors
Sticking Windows and Doors
Cracked/Uneven Slab Floor
Bowing Walls
Drywall Nail Pops
Not sure what exactly to look for or where to look for it? Keep reading for more details and check out this gallery to see if anything looks familiar.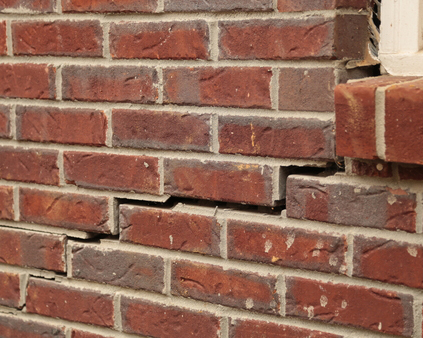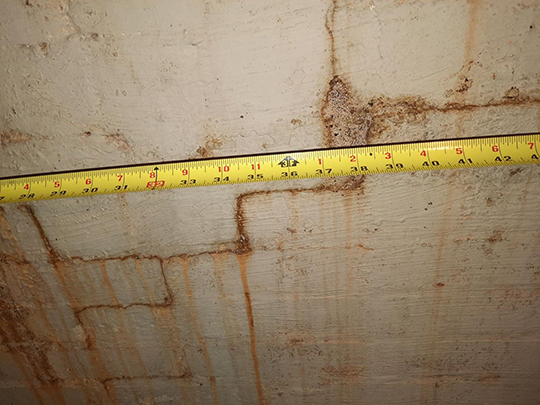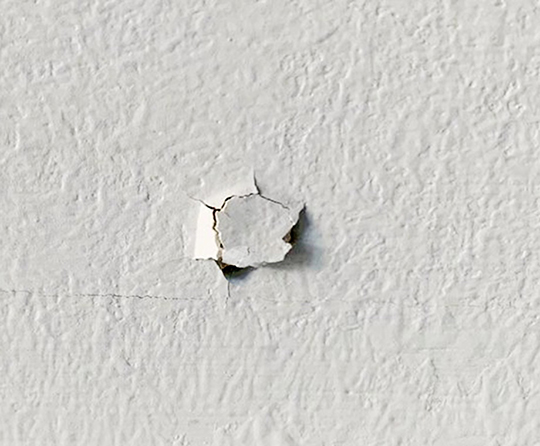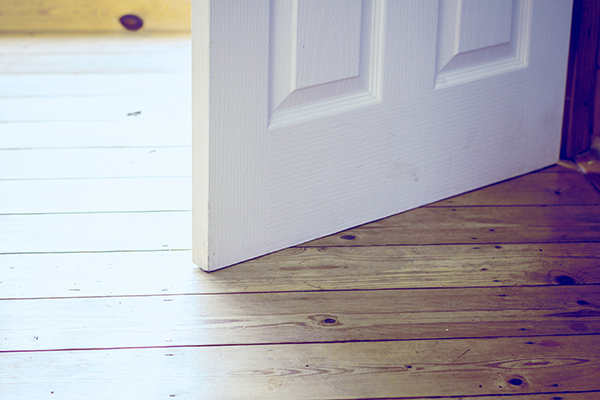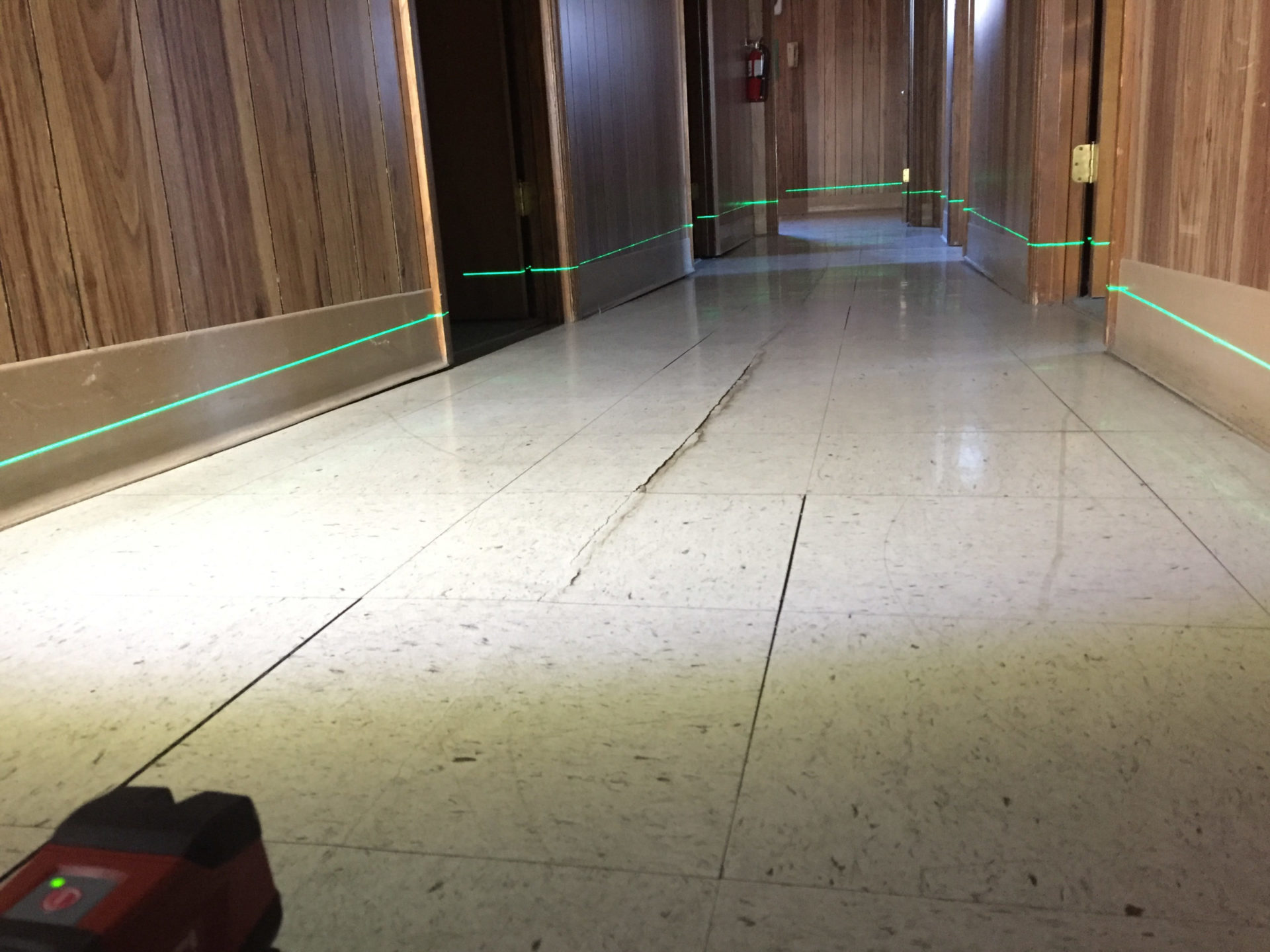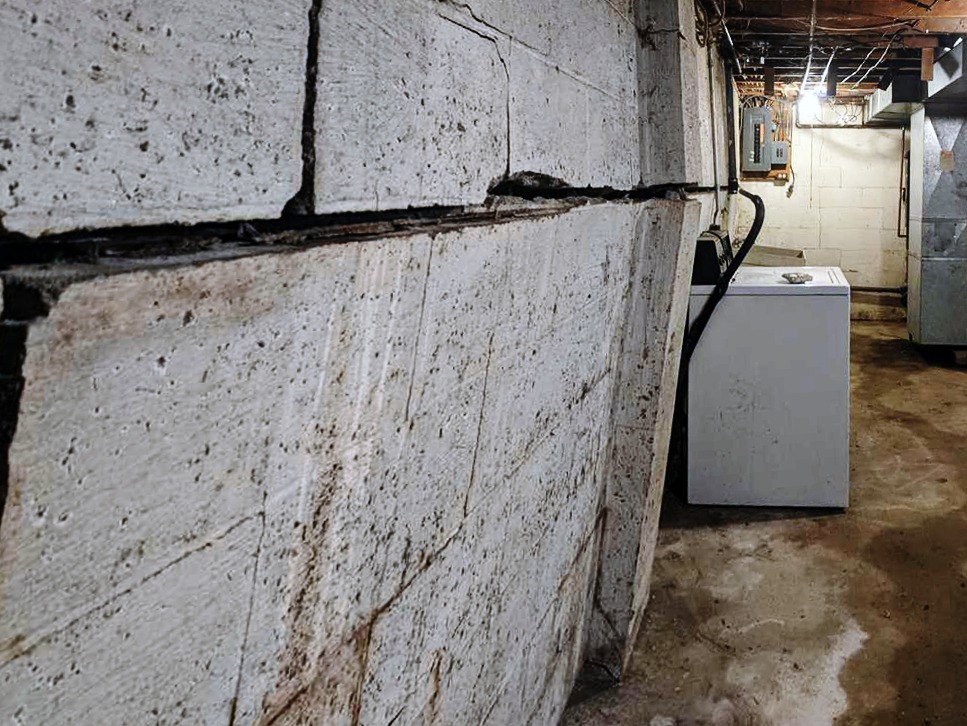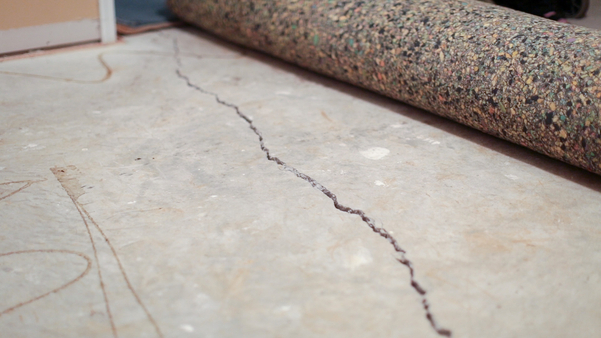 Brick Cracks/Stair-Step Cracks in Brick
Brick exteriors are common on many homes. Cracks will form and follow the mortar joints, usually in a stair-step pattern.
Wall Cracks
Wall cracks can develop on interior and exterior walls and have vertical, horizontal, stair-step, or diagonal directionality.
Cracks on walls of upper floors can be found vertically and diagonally in the drywall and around window and door frames.
Basement walls can have all forms of cracks, but typically horizontal ones accompanied by inward bowing. Stair-step cracks can also form on bowing walls.
Uneven Floors
If your home has a basement or crawl space, damaged or improperly supported floor joists and other supports can result in sections of your first floor feeling soft, bouncy, and uneven.
Sticking Windows and Doors
Doors and windows on the first floor and upper floors can become wedged in their frames and be difficult to open and close.
If there is a gap between the wall and floor, doors also can independently open and shut.
Cracked/Uneven Slab Floor
Whether your home has a basement or slab foundation, the concrete used on the floor can succumb to issues, just like all concrete structures.
You may notice the slab floor cracking and becoming uneven.
Bowing Walls
Basement walls can only withstand so much hydrostatic pressure. When the force becomes too great, the walls will move and bow inward.
This is usually seen in the middle of the wall and accompanied by cracking, but it also can happen near the top or bottom of the wall.
Drywall Nail Pops
Along with wall cracks on your first floor and upper floors, you might also see drywall nail pops.
These are small, round, sections of drywall on top of drywall nails. This tiny portion of the drywall can be raised or fall off completely.
---
What These Problems Mean
Problem signs throughout your home mean that your foundation cannot withstand pressure from environmental forces – weather and soil conditions. Your foundation relies on the underlying soil for support, but the condition of Georgia's telltale red clay soil greatly depends on moisture.
Atlanta, Athens, and other Georgia cities experience hot and humid summers, some periods of drought, and typically year-round rain that averages around 50 inches. Drought and lack of moisture causes the soil to dry up and shrink. As the soil sinks beneath the foundation, the foundation will break apart as it follows suit by settling into the ground.
Too much water, especially after a drought, floods the soil; it can only hold so much. It will also swell and expand. This puts a great amount of pressure on your basement walls.
Considering these factors, symptoms of foundation issues mean one of two things:
Foundation settlement
Inward wall movement due to hydrostatic pressure
Let's take a closer look at each of these and why they need to be addressed.
Why They Need Fixing
Foundation settlement and its associated problem signs indicate the home is moving, often inconsistently and unevenly. As the foundation sinks into the ground, it creates an unstable home that could be dangerous for your family to live in.
The same can be said about hydrostatic pressure. Basement walls will crack, bow inward, cause water to leak inside, or result in a full-blown flood. Not only will this compromise your home's structural integrity and damage any stored belongings, but other hazards like mold can develop.
What may seem like a small, harmless problem at the time often means something more is happening beneath the surface.
Foundation problems merely get worse with time. The longer they fester and grow, the more dangerous your home becomes. Repairs could also be more expensive.
Don't risk your home or family's safety. As soon as you notice a problem, reach out to local foundation repair professionals for a thorough assessment and reliable repairs.
How to Get Your Foundation Repaired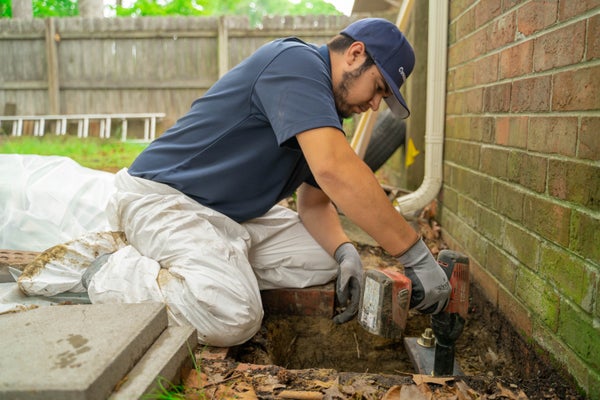 Fixing these problems means more than covering up the cracks with caulk or other fillers. Foundation repair is a complex project and not something you can DIY in an afternoon.
Plus, DIY solutions are only temporary, meaning you'd have to keep buying and installing them. The problems won't get better, either.
For repairs that address the soil issues, meet the needs of your unique foundation, and stand the test of time, it's best to have the assistance of industry-leading foundation repair professionals.
Your home can benefit from permanent foundation repair solutions including:
Push Piers
Helical Piers
Crawl Space Supports
Wall Anchors
Wall Braces
Carbon Fiber Wall Straps
If you'd like more information, check out our foundation repair guide.
---
Call AquaGuard, Georgia's Foundation Repair Specialists
Just because you can't see your foundation doesn't mean it's not important. Your foundation is what supports your entire house, so it is very important.
Signs like wall cracks and uneven floors point to foundation damage and the need for repair. Make sure your foundation and home are repaired and protected the right way.
Our team at AquaGuard is the state's premier foundation repair specialists, and homeowners just like you have trusted us to fix their foundations for more than 25 years.
You can depend on us to treat your home with the care it deserves and take comfort knowing our work will last a lifetime.
If you are ready to take back your home, call us or fill out our online form to book your free foundation inspection and repair estimate.
Foundation Issues FAQ
It depends on the specifics of your homeowners insurance policy and if there are any riders or exclusions.
There are several circumstances such as tornadoes and windstorms where homeowners insurance kicks in to cover repairing foundation damage.
However, other events like natural settling, flooding, and "preventable damage" are generally not covered by insurance.
When in doubt, refer to your policy and contact your agent for details.
Foundation repair can be a significant investment, but it's one you should make to ensure your home and family's safety.
There are different ways to pay for foundation repair projects. Learn more by visiting our page about financing and payment options.
No house is 100 percent perfect. It's possible the house you want to buy could have foundation damage and other problems.
It shouldn't be a total dealbreaker, but you must consider the importance of fixing these issues for the sake of your safety and your home's structural integrity.
Be aware that even though sellers aren't legally required to submit a property disclosure statement, it is strongly recommended. This is something you can and should request when buying a house in Georgia.