Wall Shearing in Basements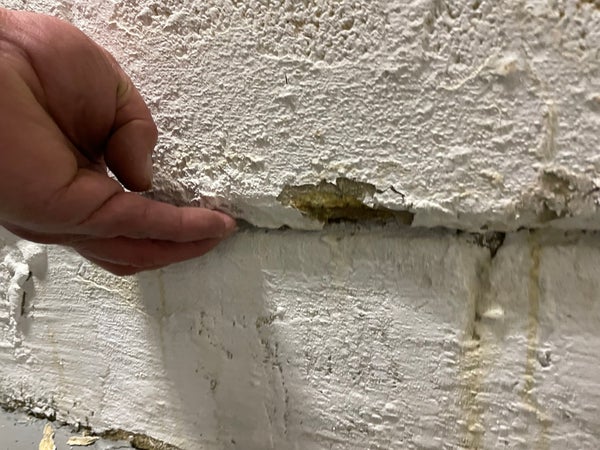 Have you noticed that the bottom of your basement wall is misaligned with the rest of it? This is often referred to as wall shearing, and it's not something to take lightly.
Leaving this problem unattended could endanger your basement's structure and make it susceptible to water infiltration. Fortunately, there's many ways to solve the issue and provide lasting strength to your basement.
Let's talk about the causes of wall shearing, its ramifications, and tried-and-true remedies to ensure lasting stability. After reading, you'll have a clearer understanding of what action to take if you notice wall shearing in your basement.
What Exactly Is Wall Shearing?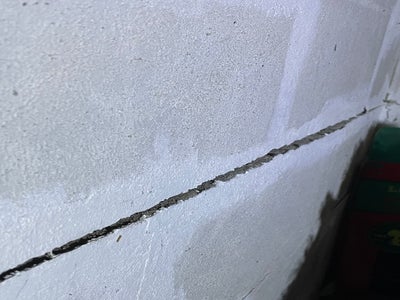 Wall shearing typically shows itself as lateral movement near the bottom of a basement wall, mostly stemming from the external force applied by surrounding soil. Elements such as soil type, water levels, and ground shifts make these cracks worse.
While wall shearing may not necessarily indicate foundation damage, neglecting it could still lead to foundation issues later on. Timely action also helps prevent serious issues like moisture intrusion or larger structural issues.
Why Does Wall Shearing Occur?
Wall shearing can arise for a number of reasons. During a home inspection, our team identifies and explains any contributing factors in your home. This way, have a better understanding of what's happening around your home. Here are the most common issues our team sees in the field:
Soil Movement
The soil around your basement can deteriorate due to fluctuating moisture levels. As the soil weakens, it offers less support to your basement walls, thereby decreasing stability and causing cracks to appear.
In some situations, water accumulation causes soil to expand, and leads to pressure against your basement walls. On the flip side, during arid periods, soil may contract, creating gaps that cause settling and a higher likelihood of cracking.
Hydrostatic Pressure
Groundwater, particularly after heavy rain, exerts pressure on basement walls, laying the groundwork for cracking. This buildup of underground wtaer pressure is known as hydrostatic pressure.
If your home is situated on a slope or has insufficient drainage systems, water build-up can exacerbate this pressure. Prolonged exposure to these conditions compromises your basement walls, necessitating immediate steps toward repair.
Thermal Expansion
Temperature variations can cause the material of your basement walls to expand and contract. This action makes them more prone to developing cracks.
Concrete and brick are especially vulnerable to thermal changes, leading to cracks over time. These cracks might start small, but they will widen over time and provide entry points for water (which only makes wall shearing worse)
Is Wall Shearing Fixable?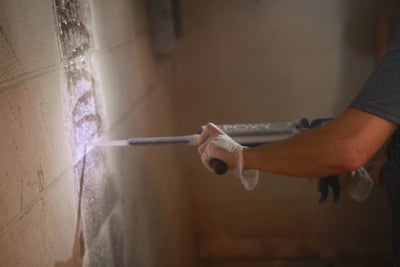 Absolutely, yes! With advances in foundation repair technology, we can focus on treating the affected areas without needing an entire basement overhaul.
At AquaGuard, we employ a wide range of cutting-edge techniques to stop wall shearing and ensure a dry, secure basement for years to come.
Our Strategy for Repairing Wall Shearing
We have gained the trust of numerous Georgia homeowners through our attentive inspection and repair process. Here's how our team approaches wall shearing:
1. Detailed Inspection
One of our specialists comes to your home to better understand your problem. This in-depth assessment helps us gauge the severity of the situation.
It also allows us to pinpoint the specific causes behind wall shearing in your home. We'll determine whether soil movement, hydrostatic pressure, thermal changes, or any combination of these are behind the damage.
2. Repair Methods
Based on our initial evaluation, we will recommend one or more of the following solutions:
3. Moisture Management Solutions
Since wall shearing is often caused by moisture, we also recommend installing basement waterproofing solutions. Not to mention, water can actually get into your basement because of wall shearing, so water management is a valuable asset.
Our waterproofing solutions include internal drainage systems, vapor barriers, and dehumidifiers to manage water infiltration and alleviate foundation pressure.
Why Act on Wall Shearing Now?
Delaying action could lead to escalating problems and drive up future repair costs. Timely intervention offers:
Prevention against further structural damage
Decreased risk of water leakage and mold development
Reduced chances of floor unevenness and compromised supports
Cost-saving by preventing extensive damage
By choosing AquaGuard, you're investing in a comprehensive, tailored approach that not only fixes the current issues but also safeguards your basement against future problems.
Contact AquaGuard for Your Wall Shearing Solutions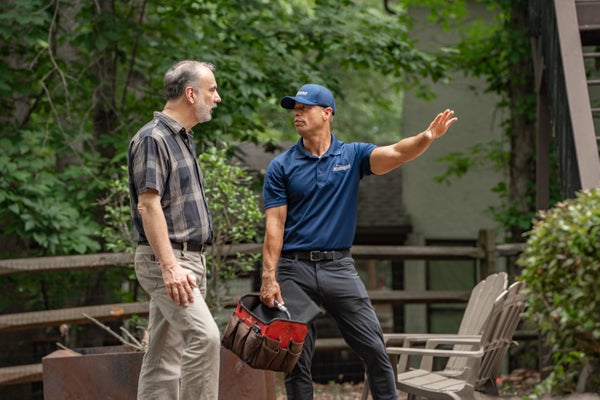 If you spot signs of wall shearing in your basement, it is best to take immediate action. Don't let a minor concern turn into a major ordeal.
At AquaGuard, we emphasize advanced techniques designed to address wall shearing at the source. In this way, we ensure that the problem is solved and that your basement walls are stabilized.
We provide free, detailed basement evaluations. Contact us today to schedule your appointment! Choose quality over temporary solutions—tackle foundation issues with Georgia's trusted experts at AquaGuard.
Publish Date:
Last Modified Date:
Explore more problem signs